Ron Sutfin's Wildwood Ranch Recording Studio
Wildwood Ranch Recording Studio and The Peacock Flounders
24 Track Analog/Digital Recording
64 channel Soundcraft Ghost console modified by Creation Audio Labs in Nashville, Langevin ic pres, Focusrite mic pres, Langevin Electro Optical Compressor/Limiters, Digidesign ProTools DAW with tons of plugins, ATC SCM20-ASLT Studio Monitors, Tascam and Alesis multitrack recorders, lots of outboard gear, large selection of tube stuff, Premier Drums, Fender, Ampeg, Marshall, Vox, Line 6, and Hiwatt amps, Yamaha NS-10 monitors, Baldwin piano, AKG, Rode K2, Sennheiser, Shure, Audio Technica, Sony microphones, digital editing.
Check out these cool videos including the MTV Video "The Bite of Love" the peacock flounders "Rage" MP3 Free Download!!! the peacock flounders "I Forget" MP3 Free Download!!!
Click on the songs above to check out a free download of my band!!!
The Peacock Flounders Gig Schedule
1. Saturday Nov. 29th 9pm Toad's Place 300 York St. New Haven 203-624-TOAD
2. Saturday Jan 10th 2 Boots 281 Fairfield Ave. Bridgeport 203-331-1377 w/Frank Critelli and The Manchurians
3. Thursday Feb. 26th John Street Bar & Grill 17 John St. NYC NY 212-349-3278
4. Wednesday March 4th Daniels Street Bar In Milford CT Ultra Radio Hard Drive Live Broadcast
5. Saturday March 21st Two Boots 281 Fairfield Ave. Bridgeport CT 203-331-1377 w/ The Manchurians & Frank Critelli
6. Saturday April 11th The Bitter End 147 Bleeker St. NYC NY 212-673-7030
7. Friday May 15th at Toad's Place 300 York St. New Haven 9PM
8. Saturday June 13th at Cafe Nine State St. New Haven w/The Manchurians
9. Thursday July 16th at Public Main St. Middletown CT 9PM
10. Wednesday August 12th Melody Inn 3826 N. Illinois ST. Indianapolis Indiana. 317-823-4707 w/Craig Bell's "The Down-Fi"
11. Thursday August 13th Dirty Jack's 5912 Vine St. Cincinnati/Elmwood Place Ohio 513-242-2800 w/ Shot to Kill
12. Friday August 14th, Gooski's 3117 Brereton St. Pittsburgh PA. 412-681-1658
13. Sunday September 6th Bar 254 Crown St. New Haven CT. 203-495-8924 w/ Furors & Stratford Survivors
14. Saturday December 12th at Rudy's 372 Elm St. New Haven CT 203-865-1242 w/ Shelleye Valauskas Experience
15. Saturday February 27th The Quays w/Nico Blues 45-02 30th Ave Astoria Queens NYC 718-204-8864
16. Friday March 19th at "Up or on the Rocks" 50 Union Place Hartford CT. 860-247-6257 The Rock WCCC 106.9FM and Budweiser Beer Show!!
17. Saturday March 20th Rudy's Bar & Grille 372 Elm St. New Haven CT 203-865-1242 10pm Start Time
18. Saturday April 17th Neverending Book Store 810 State St. New Haven CT 8pm show
19. Saturday April 24th Meriden Daffodil Festival Meriden CT
20. Thursday May 13th "Up Or On The Rocks" 50 Union Place Hartford CT 860-247-6257
21. Saturday May 22nd at Cafe Nine w/ Shrinking Violets and Age of Reason 250 State St. New Haven CT 203-789-8281 10:30pm
22. Saturday June 12th Rudy's 372 Elm St. New Haven CT with The Mold Monkies 203-865-1242
23. Friday July 30th The Huntington St. Cafe 90 Huntington St. Shelton CT w/Steven Deal 8pm show 203-925-9064
24. Saturday August 7th Durham 4H Fair Durham Fairgrounds CT w/ Shellye Valauskas Experience 7:30pm show
25. Friday September 24th Artspace Projest Storefronts Microfest 71 Orange St New Haven w/ Shrinking Violets
26. Saturday October 23rd Two Boots 218 Fairfield Ave. Bridgeport w/Shrinking Violets 203-331-1377.
27. Friday January 21st Two Boots 218 Fairfield Ave. Bridgeport w/Stark Raving Lulu & The Jackies 203-331-1377
28. Saturday February 5th Cafe Nine 250 State St. New Haven w/Stark Raving Lulu & The Jackies 203-789-8281
29. Friday June 3rd The Delancey 168 Delancey St. NYC 11pm show 212-254-9920
30. Saturday July 16th Wallingford Town Green Wallingford CT Outdoor Concert with The Bernadettes 3pm

View The Peacock Flounders's EPK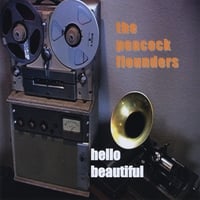 Our CD "Hello Beautiful" is available at CD Baby http://cdbaby.com/cd/peacockflounders and for download at www.itunes.com Check out Ron's band "the peacock flounders" by clicking on the thumbnail link below. There are lots of free downloads of Ron's music on the thumbnail links of his bands below. Check them out!!!
Client List
F'n Colleen, Cameraface, Valley of Kings, Miracle Legion, Bleached Black, Chopper, Rope, Gnomes, Whipping Boys, Big Bad Johns, Baby Huey, Mad Haleen, The Furors, Last Supper, Shellye Valauskas Experience, The Sawtelles, Happy Ending, Hanna Cranna, The Dispossesed, Milk of Wonder, The Swaggerts, Big Fat Combo, Bad Bob, Malachi Crunch, 23 Hello, Yawnmower, Hoosegow, Dum Dum Boys, ADX, The Morfiends, Craig Bell, The Means, Gone Native, Go Van Gogh, Maureen Pender, Angry Beautiful, The Presidential Targets, Nap LaJoy, Rope, The Optics and many others.
the peacock flounders "Toad's Place Video" Mpeg 116MB Free Download!!! Ya it's FREE
---
For CDs or 12"or 7" vinyl, send email to rsutfin02@snet.net
Click on the thumbnails below for:
Peacock Flounders, Deb Wilson Sutfin, F'n Colleen, Valley of Kings, Cameraface, Astrobeats
Audio and Music Background
Playing trombone and alto saxophone for marching band and orchestra in the Hamden School System, Ron started playing in and recording rock bands while going to Fairfield University on a hockey scholarship in the mid 1970s. After college Ron moved to Newport Beach California to play bass in the punk rock band The Lobsters with his friend Robert "Trebor" Smith. Upon returning to New Haven in the fall of 1980 he became friends with drummer Kerry Miller and formed The Astrobeats. Then in 1982 when Ron was doing live sound for New Haven band October Days, he and Kerry met Gabriel Cohen and formed the band Valley of Kings. The band shared a loft with Mark Mulcahey and Ray Neal with Mark booking bands at the local nightclub The Grotto and Ron as the Grotto's house soundman. Ron and Kerry helped Mark and Ray start their band Miracle Legion playing bass and drums for their early recordings and shows. Ron worked in the late 80's and early 90's at Platinum Island Recording Studio, 676 Broadway NYC as an assistant engineer with now legendary engineers OZ Fritz and John Herman and owner Richie Kessler and worked on many major label albums by Meatloaf, The Replacements, The Ramones, PIL, Omar Hakim, and the B-52's. The photo here is of Ron and Oz at Platinum Island doing a guitar overdub for a Cameraface recording. Ron has a B.A. in Music and Sound Recording from The University of New Haven. He worked full time as Engineering Supervisor for LIN Television's New Haven ABC affiliate WTNH Channel-8 and UPN affiliate WCTX Channel-59 for 13 years and then for 13 years as an Senior Educational Rep for Music and Arts Inc. of Frederick Maryland. He currently works full time in the Preservation Department at the Yale University Library digitally reformatting Yale's rare and historic collections of audio, video and film.
Soundcraft Ghost